Czech technology startup Perenio presents a special version of IoT Router Elegance with Tuya Smart platform for telecom operators. This collaboration is a part of the company's global project of creating an open building management ecosystem.
IoT router Elegance is the company's flagship device and has wide capabilities for telecom operators business. Perenio IoT is convinced that the greatest potential of the IoT sector development is concentrated in the B2B segment. And the future of the market is about deeper integration: in addition to selling popular devices, it is necessary to build an ecosystem, an educational component for consumers, and communication through all possible distribution channels. The telecom services market, in this case, is one of the key ones. By offering an IoT router to their customers instead of the usual router, telecom operators will be able to enter a new market, becoming providers of Smart Home solutions.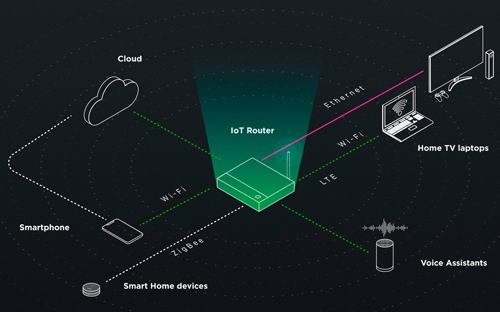 Using Perenio's IoT Router Elegance, operators can offer a wider range of services to the customers: in addition to telephony and Internet access, it is about creating an inexpensive and easily customizable modular Smart Home system. Such a system will provide security and manage resource consumption. And also customers can set the scenarios of the devices work depending on the time of day, weather and the status of the connected sensors.
With the Perenio IoT router and the Tuya Smart platform, the user will be able to connect and control a huge range of smart devices from a single application: sensors, relays, lamps, taps, shutters, kettles, humidifiers, coffee machines, vacuum cleaners, surveillance cameras, etc.
"We seek to create an open building management ecosystem that is accessible to both the individual user and entire cities. And I believe that partnership with a giant like Tuya is a big step in the right direction. In future Perenio IoT plans to continue working with various partners in the field of research and development of high technologies, devices and software for smart homes and cities," Sergei Kostevich says.
"As a global AI + IoT platform, Tuya regards the European market so important in the global expansion of the business. Perenio demonstrates strong momentum and potential in growing the IoT market as a trailblazer. What Tuya platform can add to its brand would forge a competitive position with the product diversity, fast development period and the interoperability with Powered by Tuya technology. We believe Perenio will be the top brand in the market to facilitate the way of smart living and the intelligent future is coming now in European and the global market," said Tina Yu, General Manager of Tuya European and Asian Region.
Perenio IoT and Tuya were going to present this common project at MWC2020 in Barcelona, but the event was cancelled due to the spread of coronavirus.
Addition information about prices and channels of distribution will be send later.
About Perenio IoT
Perenio IoT spol.s.r.o.is a technology company headquartered in Prague (Czech Republic), which offers integrated solutions for managing premises and buildings using the Internet of Things (IoT). Perenio consists of several development centres in the Czech Republic, Belarus and Ukraine. They create a product aiming to solve the users' problems of control, protection, monitoring of apartments, offices and other residential and non-residential premises.
Information about the company and products is also represented on the website https://perenio.com/.
About Tuya
Tuya provides a global-leading AI+IoT platform that brings smart products to life for manufacturers, brands, OEMs, and retail chains. The platform offers hardware access, cloud services, and app development. Tuya also helps brands upgrade their technology and business models, enabling them to deliver smart devices to meet consumer demand. Tuya serves more than 180,000 clients in over 190 countries powering over 90 thousand products such as lighting, appliances, and surveillance equipment. Tuya is internationally operated, with local headquarters in the U.S., China, Germany, Japan, and India. The Tuya Cloud processes over 40 million daily AI voice interactions from its five global data centers.
Information about the company and products is also represented on the website https://en.tuya.com/.