Download now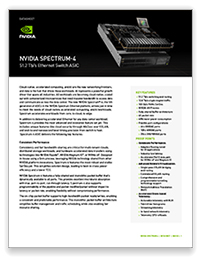 NVIDIA announced NVIDIA Spectrum™-4, the next generation of its Ethernet platform which enables the extreme networking performance and robust security needed for data center infrastructure at scale.
The world's first 400Gbps end-to-end networking platform, NVIDIA Spectrum-4 provides 4x higher switching throughput than previous generations, with 51.2 terabits per second. It consists of the NVIDIA Spectrum-4 switch family, NVIDIAConnectX®-7 SmartNIC, NVIDIA BlueField®-3 DPU and the DOCA™ data center infrastructure software to supercharge cloud-native applications at scale.
Built for AI, NVIDIA Spectrum-4 arrives as data centers are growing exponentially and demanding extreme performance, advanced security and powerful features to enable high-performance, advanced virtualization and simulation at scale. The Spectrum-4 Ethernet platform includes key features needed for the uncompromising requirements of these technologies. Spectrum-4 switches allow nanosecond timing precision — which is an improvement of five to six orders of magnitude compared to typical, millisecond-based data centers. They also accelerate, simplify and secure the network fabric with 2x faster per-port bandwidth, 4x fewer switches and 40 percent lower power consumption compared to the previous generation.The Spectrum platform enables the simulation of precise space and time in the NVIDIA Omniverse™ platform for 3D design collaboration and simulation and the Spectrum-3 switch fabric connects 32 OVX servers to form the OVX SuperPOD.
"A new era of massive-scale cloud technologies, such as Omniverse, requires a transformation of data center architecture," said Kevin Deierling, vice president of Networking at NVIDIA. "The Spectrum-4 platform's extreme performance and robust security will equip data centers to power breakthrough discoveries that push the boundaries of what's possible for the benefit of society."