Boost Technology1 which gives you an automatic burst of speed whenever you need it.
With overclocking enabled, it allows flexibility to set your system specs the way you like2.
Take control with our 6th Gen Intel® Core™ unlocked i5 and i7 processors.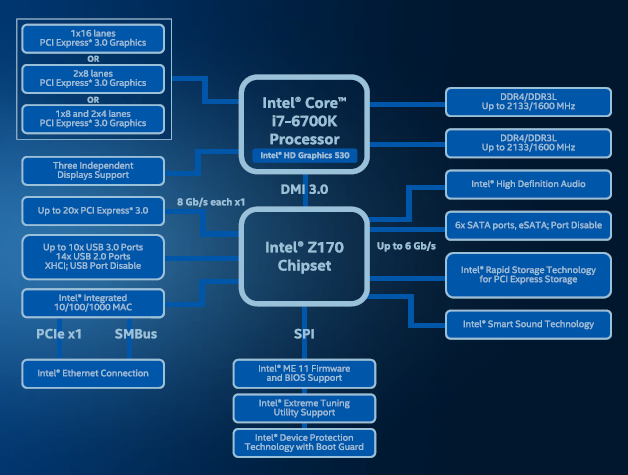 Intel® Core™ i7-6700K

4.0

Up to 4.2

4/8

8MB

16

2 channels

DDR4-2133

DDR3L-1600

91W

1151

Intel® Core™ i5-6600K

3.5

Upto 3.9

4/4

6MB

16

2 channels

DDR4-2133

DDR3L-1600

91W

1151

Disclaimers: 1. Intel technologies' features and benefits depend on system configuration and may require enabled hardware, software or service activation. Performance varies depending on system configuration. No computer system can be absolutely secure. Check with your system manufacturer or retailer or learn more at [intel.com]. 2. (Unlocked) Warning: Altering PC clock or memory frequency and/or voltage may (i) reduce system stability and use life of the system, memory and processor; (ii) cause the processor and other system components to fail; (iii) cause reductions in system performance; (iv) cause additional heat or other damage; and (v) affect system data integrity. Intel assumes no responsibility that the memory, included if used with altered clock frequencies and/or voltages, will be fit for any particular purpose. Check with memory manufacturer for warranty and additional details. © 2015 Intel Corporation. Intel, the Intel logo, Intel Core, and Intel Inside are trademarks of Intel Corporation in the U.S. and/or other countries.